Some women experience depression when they are pregnant or after they give birth—this is called postpartum depression. Learn what to look for and how to ask for help.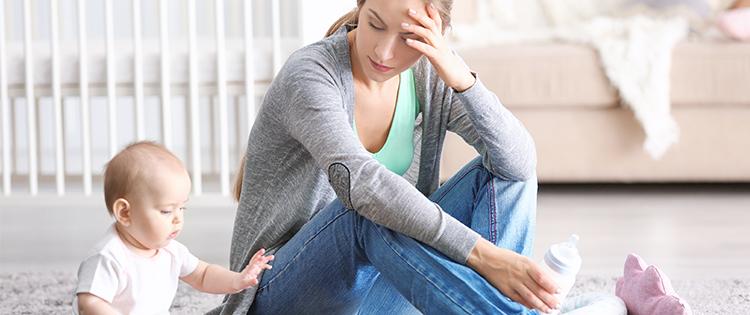 What Is Postpartum Depression?
Postpartum depression is a specific kind of depression that happens during pregnancy or after giving birth. About 15 percent of pregnant women and new moms experience it. Any woman can develop postpartum depression, but women who smoke are at a higher risk than women who don't smoke. Knowing the signs and how to get support will help protect you and your baby, and help you stay smokefree.
Know What to Expect
If you have postpartum depression, you may experience symptoms of depression, like feeling sad, empty, or worthless. You may also:
Have trouble sleeping when your baby sleeps.
Feel numb or disconnected from your baby.
Have scary or bad thoughts about your baby.
Have thoughts about hurting yourself or your baby.
Feel guilty about not being a good mom or embarrassed that you can't care for your baby.
It is common to feel sad or down during your pregnancy or after you give birth. But postpartum depression is more than the "baby blues". People can experience symptoms daily, or most days—which can last at least two weeks, usually longer. It interferes with your everyday life and can stop you from doing things that are important to you.
If you're feeling very down after childbirth, talk to your doctor or other health professional to find out if you might have postpartum depression. If it's not treated, postpartum depression can: 
Affect your ability to care for yourself and your baby.
Disturb your baby's sleeping, eating, and behavior. 
Impact your bond with your baby.
Make it harder for you to stay smokefree, especially if you've used smoking to deal with sadness or anxiety in the past.
There are treatments for both depression and smoking. And, even though dealing with depression can be hard, women with postpartum depression can still successfully quit smoking.  
Learn more about postpartum depression.
It's OK to Ask for Help
If you're experiencing postpartum depression, you don't have to go through it alone. If you think you have postpartum depression:
Talk to your doctor. They can refer you to treatment, which can reduce the symptoms of depression and shorten how long it lasts.
Tell your friends and family what you're going through. Having regular contact with other people can improve your mood.
Talk to someone now. If you or someone you know is in distress or having suicidal thoughts, get help now. Call or text 988 or chat online for 24-hour, free and confidential support from trained counselors. Para obtener asistencia en español durante las 24 horas, llame al 988.
Learn more about managing your mood at Smokefree.gov.